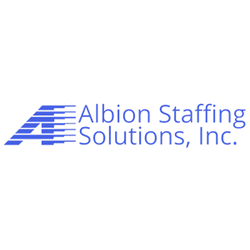 Albion Staffing
Human Resource Assistant | Miami, FL
Pompano Beach, FL
About Albion Staffing Solutions:
Albion has been offering Temp; Contract and Direct Hire Staffing Services for 20-years from offices located throughout South Florida. Offering General Admin/Clerical and Light Industrial staffing services, Albion also specializes in the Logistics, Allied Healthcare and Banking industries.
* Inquire about our Incentive and Employee Referral Bonuses Plan * We are the highest paying Staffing Company in South Florida.
About this position:
Albion Staffing Solutions has a client looking for a Human Resource Assistant for the Miami, FL area. Great opportunity to join a fast growing company with lots of room to grow. Must have great personality and a can do attitude. It is an in person office opportunity on West Flagler in Miami, FL. Excellent benefits offered upon conversion The Human Resource Assistant will perform administrative tasks and services to support effective and efficient operations of the organizations human resource department.
Duties/Responsibilities:
Provide support for the recruitment process and serve as a liaison between the managers and candidates.
Maintains accurate and up-to-date human resource files, records, and documentation.
Answers frequently asked questions from applicants and employees relative to standard policies, benefits, hiring processes, etc.; refers more complex questions to appropriate senior-level HR staff or management.
Maintains the integrity and confidentiality of human resource files and records.
Performs periodic audits of HR files and records to ensure that all required documents are collected and filed appropriately.
Provides clerical support to the HR department.
May assist with payroll functions including processing, answering employee questions, fixing processing errors, and distributing checks.
Acts as a liaison between the organization and external benefits providers and vendors, which may include health, disability, and retirement plan providers.
Conducts or assists with new hire orientation.
Assists with planning and execution of special events such as benefits enrollment, organization-wide meetings, employee recognition events, holiday parties, and retirement celebrations.
Performs other duties as assigned.
Required Skills/Abilities:
Excellent verbal and written communication skills.
Excellent interpersonal skills with the ability to manage sensitive and confidential situations with tact, professionalism, and diplomacy.
Excellent organizational skills and attention to detail.
Proficient with Microsoft Office Suite or related software.
Proficient with or the ability to quickly learn payroll management, human resource information system (HRIS), and similar computer applications.
Education and Experience:
Associates degree in related field required.
Prior related office experience preferred.
Workplace Location:

Applicants will work in the customer's facility - located in Miami, FL
Candidate Advice:
Strict Covid-19 Protocols applicable.
Albion uses E-Verify to verify employment eligibility.
Pre-Employment and random Drug and Background testing applicable.
Only Local Candidates will be considered; no relocation provided.
Reliable Transportation to/from the workplace is necessary.
dhy1n3gw1otd
128396334