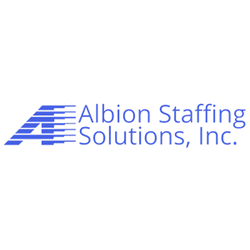 Albion Staffing
Customer Service Representatives | Miramar, FL
Pompano Beach, FL
About Albion Staffing Solutions:
Albion has been offering Temp; Contract and Direct Hire Staffing Services for 20-years from offices located throughout South Florida. Offering General Admin/Clerical and Light Industrial staffing services, Albion also specializes in the Logistics, Allied Healthcare and Banking industries.
* Inquire about our Incentive and Employee Referral Bonuses Plan * We are the highest paying Staffing Company in South Florida.
About this opportunity:
Inbound Customer Service Resumes needed!
PLEASE NOTE THAT ONLY ENGLISH/SPANISH SPEAKING CANDIDATES ARE NEEDED. MUST SPEAK, READ AND WRITE FLUENTLY IN BOTH.
INTERVIEWS WILL BE CONDUCTED FOLLOWED BY REQUIRED LANGUAGE TEST ON SITE.
***Week-long training*** REGULAR WORKING HOURS: Monday through Friday, 9:30am TO 6:00pm
Company offers competitive pay and full benefits (health, dental, vision, 401k, tuition reimbursement, PTO and holidays) $15.50/hr. with a $500 sign in bonus!
The Bilingual CSR represents the company by addressing incoming telephone, digital, or written inquiries.
The Bilingual CSR performs basic administrative, clerical, operational, customer support, and computational tasks. Typically works on routine and patterned assignments.
The Bilingual CSR addresses customer needs, which may include complex benefit questions, resolving issues, and educating members.
Records details of inquiries, comments or complaints, transactions or interactions and takes action in accordance to it.
Escalates unresolved and pending customer grievances.
Decisions are limited to defined parameters around work expectations, quality standards, priorities and timing, and works under close supervision and/or within established policies/practices and guidelines with minimal opportunity for deviation.
Required Qualifications:
High School Diploma or equivalent
2 years of customer service experience
Strong customer service orientation
Strong attention to detail
Strong typing and computer navigation skills
Previous inbound call center or related customer service experience
Capacity to multi-task, including use of multiple computer applications simultaneously Effective verbal and listening communication skills
***Fluency in Spanish required***
Workplace Location:
Applicants will work in the customer's facility - located in Miramar, FL
Candidate Advice:
Strict Covid-19 Protocols applicable.
Albion uses E-Verify to verify employment eligibility.
Pre-Employment and random Drug and Background testing applicable.
Only Local Candidates will be considered; no relocation provided.
Reliable Transportation to/from the workplace is necessary.
102447850
102447850